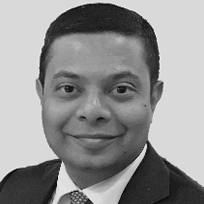 MD - Investment Banking
Harshana is a Senior Corporate & Investment Banker with multifaceted experience accumulated over 20 years with international financial organizations in Switzerland, Middle East and Sri Lanka.
He brings an extensive client and investor network and experience in multiple industry segments and sectors accumulated through Corporate, Institutional & Investment Banking, Trade and Structured Finance, Cash Management, Risk and Analytics, Private Banking, Financial Advisory, Capital Markets & Syndication, Mergers & Acquisitions, Financial Strategy and Business Development.
Credentials include: Fellow of Chartered Management Institute, Master of Business Administration (with Merit) from the University of Leicester, Executive Management Program in International Management - Stanford Graduate School of Business (GSB) National University of Singapore Business School.
More recently he has been active within the Blockchain space with a certification from Harvard Business School in relation to FinTech, Blockchain and Cryptocurrencies.